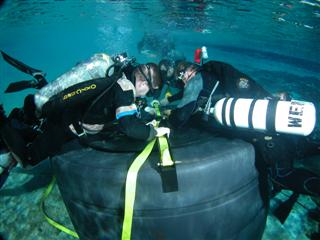 We had almost the entire Weeki Wachee Spring Exploration team out on Sunday. It was great to see everyone (new and old team members) and to have everyone's help putting in the habitat. I think I could go on for hours talking about the habitat and our attempts at getting it installed but it all boils down to what we had planned didn't work out. However, we are very confident that our new plans for the installation of the habitat will. Here is a picture of Eric and I doing some synchronized wrenching
(thanks to Steve Straatsma for the picture)
.
We are still unsure as to when exploration diving will begin again at
Weeki Wachee Spring
. The current flow is at 118cfs and has been pretty steady since December. Hopefully, we will be able to start diving before May.
Lucky for everyone in Florida there has been quite a bit of rain lately. The Suwannee River is flooded as are portions of the Sante Fe and the Withlacoochee. Bad news for cave divers but good news for the environment. Last time we had this type of flooding the caves cleared up pretty quick. However, I would not expect that to be the case this time as the aquifer is not charged.
Volunteers are needed by the NSS-CDS to finish the steps at
Cathedral Sink
. The work day will be on March 29th and will start at 9AM. There will be a social following the work day. This project is almost completed so any and all volunteers would be greatly appreciated. Click
here
for more information about the work that needs to be accomplished as well as the social.