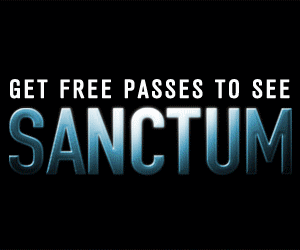 I have been eagerly awaiting the release of the new cave diving movie SANCTUM. The movie "follows a team of underwater cave divers on a treacherous expedition to the largest, most beautiful and least accessible cave system on Earth. When a tropical storm forces them deep into the caverns, they must fight raging water, deadly terrain and creeping panic as they search for an unknown escape route to the sea. With dwindling supplies, the crew must navigate an underwater labyrinth to make it out. Can they survive, or will they be trapped forever?" The
trailer
looks great and I am hoping the movie will be even better.
I am lucky enough to have some FREE passes to SANCTUM. So I am going to take a
Moosejaw
approach and build in some trivia to see who gets some passes. Here is the question...What recently deceased Florida cave diver was actually involved in the original expedition for which this movie is based? Click
here
to send me your answer. I will announce them on 1.27.2011 on
my Twitter page
.
SANCTUM opens IN THEATERS FEBRUARY 4! Until then, check out the trailer
here
.