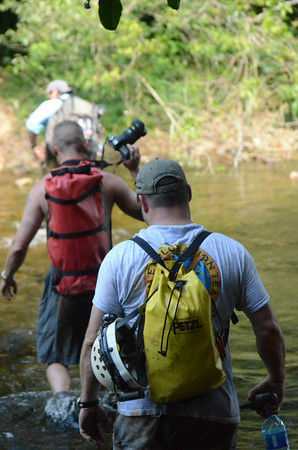 I have often wondered if the extraordinary caves of Belize would yield cave diving opportunities. I have reviewed topographic maps, researched local geology and pored over volumes of expedition notes from past teams and most, if not all, terminate in a sump. The unexplored sumps were like a siren song to me. We had to go at least take a look!
Exploring caves in Belize requires permits and some of these can take up to 3 months to obtain. Therefore,
Josh Bernstein
,
Jon Bojar
,
Curt Bowen
,
Eric Deister
and
myself
decided to visit Belize and do some scouting to see if we could find any interesting possibilities that could lead to a future expedition. We called our trip the 2011
ADM Exploration Team
Belize Cave Scouting Trip (you may be starting to see a pattern for naming).
Belize is an oddity in Central America, formally known as British Honduras, as the spoken language of Belize is English. That being said, I heard quite a bit of Creole, Chinese and Mayan as well. Since English is spoken by most (everyone we encountered), traveling in Belize is a bit less challenging when explaining what a rack is or trying to describe what types of cave entrances and karst features we look for. Another oddity, to me, was the sizeable population of
Mennonites
. Imagine my disbelief seeing horse-drawn buggies in the jungle. Belize is a unique amalgamation of people, languages and cultures all living happily side-by-side.
Eric was the TC (in training) for this trip. He arranged accommodations for us in the town of San Ignacio near the Guatemalan border at the wonderful
Cahal Pech
(Mayan for place of the ticks -- little did we know!). Normally, we are not accustomed to staying at resorts or hotels so this was a nice treat. Nice treat except for the fact we had 5 hours of horrible roads to travel each day into the jungle. If you venture off a main road, be prepared for a back breaking drive! The consensus is that on our next trip we will definitely be staying in the jungle simply for logistics and time to explore reasoning. That being said, Cahal Pech was great place to stay, rest, soak and pick ticks off ourselves. The staff was amazing, the food was delicious and well varied. The variance in menu items was a welcome treat as well! Our usual expedition dinners consist of rice and beans one night and spaghetti and sauce the next. Our lunches of tuna sandwiches and peanut butter are even more creative. The nice thing about our expedition meal choices are that they keep you fed and out of the dirt!
The Belizean jungle is fascinating (or UnBelizeable as some locals might say). At 1,500 feet of elevation we found ourselves in a Oak and Pine Sandhill region that strikingly resembled much of South Central Florida. Couple this with the massive amounts of exposed limestone and towering karst outcroppings and I knew this would be a productive place.
Many caves in Belize are simply put MASSIVE! Some are riverine, some sumped, some completely dry. Some requiring 500 foot drops to access and others you can simply walk, swim or raft into. Belize appears to be a virtual cornucopia of caving and cave diving delights!
After a week in Belize we came to the conclusion that we want to setup a formal exploration to explore Belizean caves and we all hope to return soon. I would like to thank Eric for putting this trip together (and taking a load of crap from everyone), the staff of Cahal Pech for making sure we had everything we needed (including photo models at 4.30AM) and those that helped us find our way in the jungle.